Green / LEED Projects
Nickerson & O'Day has a LEED Accredited Professional on staff:
Karl Ward, President & CEO
LEED, or Leadership in Energy and Environmental Design has become the regional standard for green construction in the building industry. This standard of design and construction is a holistic approach that incorporates considerations like site selection, urban redevelopment, storm water management, high levels of insulation, indoor air quality and renewable energy.
LEED certification offers independent verification that a project meets the highest performance standards and provides nationwide recognition that the building provides a healthy living and working atmosphere, is profitable and environmentally responsible.
The benefits of LEED certification are:
Lower operating costs and increased asset value
Reduced waste sent to landfills
Conserved energy and water
Reduction of greenhouse gas emissions
Demonstration of social responsibility
Provide a healthy environment for occupants
Qualifies owners to receive tax rebates, zoning allowances and other incentives
Scroll down for a description of our LEED projects to date.
---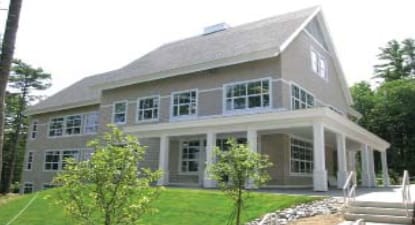 The MDI Biolab is the first LEED Certified biomedical research lab in Maine, and one of only a few in the country. The new Biolab building consists of 17,000 square feet of usable space that provides laboratory and office space for six full-time research groups, a library, a 1,200 square foot research training laboratory, wet … Continued
Past Projects
Nickerson & O'Day has completed many construction projects in Bangor and its surrounding communities.
View our past projects.