Statewide Historic Preservation Honor Award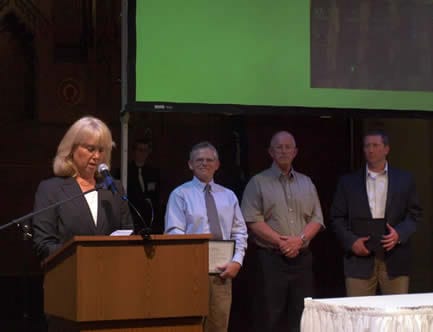 Bangor, ME, June 09, 2011: Bangor area contractor Nickerson & O'Day has been selected to receive a Statewide Historic Preservation Honor Award from Maine Preservation for the second consecutive year for its work in the restoration & rehabilitation of Coburn Hall at the University of Maine, originally built in 1888.
"We at Nickerson & O'Day are humbled and truly gratified to once again be chosen to receive this prestigious award" said Nickerson & O'Day President, Karl Ward. "Like our previously recognized work at Bangor Waterworks (2008) and the Winterport Union Meeting House (2010), we pride ourselves in taking an active role in preserving these wonderful old buildings for future generations" said Ward.
Maine Preservation was founded in 1972 as a non-profit, statewide historic preservation organization. Among their many activities they advocate to protect historic places, educate on Maine heritage, and match those in need of preservation assistance with the experts to guide them. Each year they recognize those properties, organizations and individuals that best mirror their mission of promoting the preservation, protection and vitality of Maine's historic places.
Accepting the award at the Honors Ceremony will be Elaine Clarke, Associate Vice President for Administration and Finance University of Maine, Mike Pullen, Principal of WBRC Architects/Engineers, Kevin Gresser, Vice President of Nickerson & O'Day and Steve Burton, Nickerson & O'Day's project manager for the Coburn Hall restoration & rehabilitation.